The Dobermann is considered one of the smartest dog breeds. They are people-oriented dogs with top-notch guarding ability, but they are also sweet and affectionate to their masters and other people if trained and socialized properly.
It makes a wonderful family dog, but must be trained at an early age to tame aggressive behavior. When training, socialization, and proper care are given to Dobermans, they will certainly be good people dogs, even with children and other pets at home.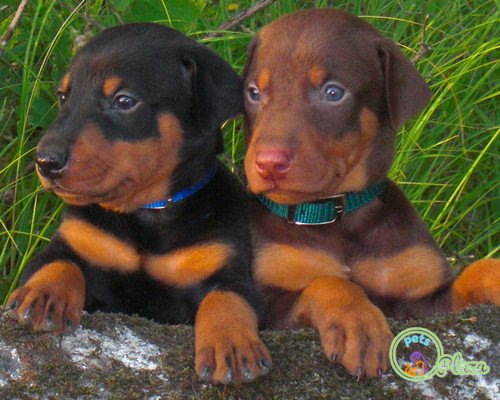 Pet shops and kennels addresses where you would get Dobermann puppies for sale
1. Shinde Kennel (Breeding Center )

M6MH+9PF, Nimgaon Mhalungi, Maharashtra 412208, India
+91 89566 43978
2. Puppy for sale in delhi

DDA Flats, Munirka, New Delhi, Delhi 110067, India
+91 95559 44924
3. Mr n Mrs Pet

10, Shaheed Amit Bhardwaj Marg, Jai Shree Nagar, Sector 5, Malviya Nagar, Jaipur, Rajasthan 302017, India
+91 75979 72222
4. SangFroid Kennel

Plot No 7 ,Survey No. 26/2/2 Jaldhara Co.operative Society Katraj Kondhwa Road, Katraj Bypass Rd, Balkawade Nagar Society, Vighnaharta Nagar, Kondhwa Budruk, Pune, Maharashtra 411046, India
+91 98607 77723
5. Dav Pet Lover's Pet Shop

Vardhman Star City Mall, M-80 Ground Floor, Sector 7 Dwarka, Dwarka, New Delhi, Delhi 110075, India
+91 99907 30909
6. Ssp breeders

Plot no 94 indora mission mohalla, Maharashtra 440004, India
+91 95032 28128
7. Flower Pets

Shaktigarh, Birati, Kolkata, West Bengal 700051, India
+91 80139 88082
8. Satish Datta Kennles

11-15-181, ROAD NO 5A,JB COLONY SAROORNAGAR, Bahadurguda, Hyderabad, Telangana 500035, India
+91 72075 22049
9. Solapur Kennel Club

Kumta Naka, Solapur, Maharashtra 413003, India
+91 98231 05004
10. Hygge Kennels

301, Yelahanka newtown, Bangalore 560064, Yelahanka New Town, Bengaluru, Karnataka 560064, India
+91 96205 55553
Buying and Adopting Dobermann puppies
Dobermans are one of the most expensive dog breeds, and we mean expensive not only from a buyer's perspective, but for diet and care too.
So, if you are planning to get a Doberman, you have to make sure you are ready for the responsibilities.
It includes proper training, grooming, and dietary needs.
You have to devote your time and attention to caring for and training your dog to ensure that it will have proper behavior.
Important things you should take care of while buying and adopting Dobermann puppies
Make it a habit to know the background and reputation of the seller or pet store. Only buy from a licensed breeder or pet store.
Once you already have your dog at home, you have to devote time to training your dog, especially the Doberman breed. It is an intelligent breed and would love to be mentally motivated. It gets bored easily and will tend to destroy your belongings when you do not exercise regularly.
If it is your first time having a Doberman or first time becoming a dog owner, you have to let your dog be trained by a professional dog trainer. It will be beneficial on your part, especially when it comes to helping your dog learn basic commands and tricks.
Most importantly, see to it that you establish a good pattern of behavior. Dobermans have a naturally protective nature and can be aggressive with minimal trigger. So, you have to set boundaries and do the necessary training as early as puppy.